Every person would like to translate his/her dreams to reality. We impart skills designed to make this reality a positive success. To empower oneself is the need of the hour in this highly fast paced world.
WHO ARE WE?
We are a compassionate training company, supported by a group of enthusiasts who live by a simple motto – YOLO! (YOU ONLY LIVE ONCE) …so keep it simple, humble and reach for the stars.
WHAT DO WE DO?
A radical training company that uses experiential & whole brain learning methods required to upscale one's Working Skills & Working Environment.
Founded in the year 2010, Tour de Force has catered to a versatile section that cuts across various levels to deliver the universal solutions.:
Bank and Allied services
IT conglomerates
FMCG
Pharma
Millennials
Tour de Force has done thorough research on the brain and how the neurological pattern affects ones conscious and subconscious behaviours.
The winning solution mindset is not on one's attitude but how the neuro path ways define ones resilience towards a V.U.C.A. situation.
In other words how your mind mechanism is stretched to have the winning edge.
The skills required for success and have an 'Einstein's mindset is on "Self Observation & Awareness" on one's response to challenges.
TDF creates training that builds a receptive 'Mind set' to challenge the 'no(s)' into a 'yes' and to build a platform for solutions.
The new methods of training applied by TDF have a deeper impact thus breaking the ineffective habits of an 'average person' & 'average environment'
OUR PROMISE
Tour de Force brings in cutting-edge knowledge To empower the 21st-century professional across industries To upscale and bring in right work effectiveness in this V.U.C.A. world
BECOME THE V.U.C.A. LEADER
HOW ARE WE DIFFERENT
We have excellent talent to choose from
Our solutions are dynamic and resilient, everything is context-dependent
Follow ups are rigorous to ensure impactful shifts
 Attempt to create dynamic, ownership-driven teams
Bring in accelerated methods to define change • Whole brain learning coupled experiential intervention.
Outcome-based interventions
Well researched modules
Core member of L&D Global
Network of experts for consultation and support.
Network and trainers pan India
CEO Profile
Shilpi Khandelwal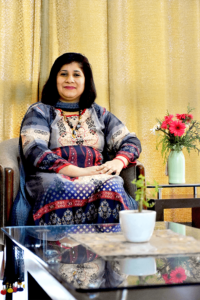 ➡ A competent professional with over 15 years of experience in soft skills and behavioural training in most of the verticals to bring in the effective change
➡ She is an Executive Coach certified by Franklin Covey, NLP Masters from NFNLP and a Practitioner DISC profiler through Thomas International. Her recent certification in Design Thinking has made TDF at par with the industry's need
➡ Proficient at creating customised modules tailor-made for the client's need with a thorough 10 step program.
➡ Hands-on expertise with training over 10,000 adults and 12,000 children
➡ Good understanding of the challenges and dilemma faced by the 21st century professional
➡ Possesses good command on delivery style and is always reinventing the structure to drive home learnings and its easy applications.
➡ Sound knowledge of industry and tools to be used to deliver a measured change
➡ An effective communicator and a consistent professional with an urge for holistic and intellectual growth
➡ Currently working as a CEO of Tour de Force, a Soft skills and Behavioural solutions company.